Review: Shenmue 2 (Retro)
Release Date (NA): October 28, 2002
Release Date (EU): November 23, 2001
Release Date (JP): September 6, 2001
Publisher:

Sega

Developer: Sega AM2
Genres:

Adventure, RPG, Life Simulator

ESRB Rating: Teen
PEGI Rating: Twelve years and older
Also For: Xbox 360
Yep, back to back Shenmue reviews! I thought 1 was an amazing, picture-perfect game. How does the sequel compare?


Story
Shenmue 2 picks up immediately where 1 left off. In fact, if played back to back it would seem like it was just disc 4; we left Ryo getting onto the boat to Hong Kong and here he is just about to get off. The game does a real good job at making you feel like a foreigner here in Hong Kong. The very second you get off that ship you get bombarded by merchants and people looking to make a quick buck off of gullible tourists. Your goal in the beginning is to find a martial arts master by the name of Lishao Tao with very minimal information. That's it, you're just dropped into the massive city of Hong Kong left to find one person all by yourself, and it really just nails the feeling of being a foreigner in a place you've never been to.
Whereas Shenmue 1 was more of a set up(a damn good one mind you, don't take this as a negative towards it), Shenmue 2 is where the story gets real. You learn a lot more about Lan Di, the mirrors, and who that damn dream girl that kept showing up is. Its even more interesting and even more action packed. The gangs are bigger and tougher and everybody is out to get you. This game outdoes the first games fantastic story and it really begins to flesh out.
Take note of the use of the word "begins" in that last sentence. As I said in the Shenmue 1 review, Shenmue 2 ends in a cliffhanger again. Shenmue 1's ending is clear and can be decently satisfying for the time between games because its clear what will begin to happen next time. The difference here with 2 is that the story reveals so much and introduces a crap ton of new mysteries and plot points within the last hour of the game and it just ends, waiting to be picked back up in 3.
Thankfully, Shenmue 3 is in development and is set to come out soon maybe probably.
Gameplay
I'm not really going to bother going over everything again here, go back and read the Shenmue 1 review again if you need that. Most of the gameplay elements in Shenmue 2 are the same as Shenmue 1, and they all still work just as well. I'm instead going to talk about what was added and improved this time around.
A few upgrades to the free battle system have been added. There are more moves to learn, a few first person battles, and now QTEs during fights. First person battles are okay. It's an interesting way to shake up how a fight is played, because there are many many MANY more fights than 1 here. Not to say they get boring though, just that the view change is a nice mix up.
Now, mid battle QTEs sound terrible, but actually are kinda cool. They're pretty predictable when they'll happen, they almost always initiate if an opponent connects a certain grab move. Then the game freezes, a button prompt pops up, shows you a series of inputs and you need to repeat them, sort of like Simon. Now, if you fail it, the move the opponent was about to do does a devastating ammount of damage. This can be shitty because you can potentially get 90% through a fight, do the QTE wrong and have to start over because it killed you. But again, you get enough reaction time to do it and just like last time, the buttons you're pressing are not random and make sense in context.
Shenmue 2 also introduces more mini games and part time jobs. Sure, in Shenmue 1 you can go play a round of darts or an arcade game, but thats about it. Arcades are back and have more games! But thats not all. Money is a necessity in Shenmue 2 and theres many gambling mini games to earn, or lose, an extra buck. How about a game of Lucky Hit? Or you can even leave your money up to a roll of dice. As for jobs, Shenmue 1 had the forklift but it was required and your only option. Now there are tons of ways to work, run a game stall or lift crates at the pier, plenty of ways to earn money. I really like battling all the quirky street fighters for some extra cash. Arm wrestling is a lot of fun too.
Hong Kong puts Yokosuka to SHAME. Yokosuka is 3 areas: a small neighborhood, a shopping center, and the harbor. Shenmue 2 has not only the giant city of Hong Kong, consisting of many, very big areas, you also get equally as big city of Kowloon and the big open mountains of Guilin. And nothing is compromised either, you get a substantially higher quantity of areas and ones that are bigger than anything in Shenmue 1 and they all have the same high level of quality and detail, sometimes even more detailed than the first game. You can go inside just about every single shop and building and room in Shenmue 2. There are so few places that you can't go inside you could probably count them on one hand. It actually gets obsessive with how many places you can explore in. In Kowloon, there are several of these 12 story apartment buildings and you can go inside every single room on every single floor in each one of these buildings. There are also a few side quests that are mixed in too that Shenmue 1 didn't really have. They are kind of hard to find where and when they are and how activate on your own though but once you get started they are a lot of fun and rewarding. And once again there are secret moves to find and learn.
The NPC dialog and interactions is drastically improved too. In the first game, most of the NPCs on the street didn't have anything helpful to say, usually just saying "I'm busy right now" and walking away. It was typically only the shop owners who had useful and meaningful interactions but even then sometimes they didn't have anything to say depending on where you were in the story. Now in Shenmue 2, every single NPC has several things to say about every story point, at every part in the game, directions on where you need to go at any given point in the game, several answers to several questions, information on how or where to get a job nearby, and tons of general chitchat dialog. Not only that, there are LOADS more NPCs than ever before. You will very rarely see the same NPC twice and they still have their daily schedules like before. Every NPCs dialog is unique as well, each one has their own voice and is never shared with the others to cut corners. Some NPCs even remember if you've met them before and that will trigger new dialog with them if you run into them again later. For example, there is a guy who really likes to collect capsule toys and I had a chat with him at the start of the game. He gave me some pointers about flipping them for money and I thought that was gonna be it. I then caught him again a few hours later kneeling down at a machine buying toys. I talked to him and he said "Oh! Its you again!" and he was telling me about how he couldnt get the toys he wanted like he was my friend. Then once again, I met him again in a completely different city. He said he was visiting Kowloon because they had rare capsule toys there. Interactions like that go a long way and there are many instances of this in the game.
It really is crazy how much voice acting is in this game. There are even several different fortune tellers that have to tell you where to go at any given point in the game. There are so many instances and situations that need to be accounted for for what has to be hundreds of characters and its all there fully voiced with no compromises or shortcuts.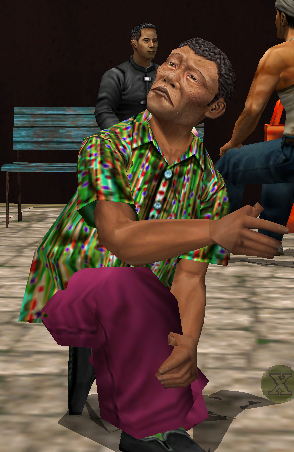 My new BFF.
Graphics
Shenmue 2 has very similar graphics to 1, and thats a good thing because 1 had fantastic graphics. There are improvements, a lot of the random NPCs look much better and the game can handle a lot more things on screen. I think this games environments and setting are much more visually interesting than the first game. The streets of Hong Kong are densely populated, lined with stores and outdoor shops and neon signs that glow during the night. And once again the game looks very crisp and clear through VGA on Dreamcast and component on Xbox.
Hong Kong is very visually different from Yokosuka.
In a section below, I will talk about the differences between the Xbox and Dreamcast version.
Sound
Interestingly, none of the music in Shenmue 2 really stuck with me. I didn't particularly dislike it but a lot of it is just atmospheric Chinese music, nothing I would seek out to listen to. The tracks I did like were just orchestrated pieces done for Shenmue 1 that were unused, got little spotlight, or just flat out reused.
The voice acting is done in the same style as 1, but I noticed that the main, main characters actually seemed to give a normal performance for most of it. Yeah the hilarious lines are still there and plentiful, but when the story gets more serious and starts to become a bigger part of the game about halfway through, they kind of ditch the style they were doing and actually give some good honest performances.
Misc
Here it is, the big debate in the community.
What is the better version, Dreamcast or Xbox? Well lets take a look at both, because I did play both back to back. To start, they're extremely similar. The graphics aren't better in either version aside from some added real time shadows. If you want to get anal, the Xbox version fixes some incorrectly mapped textures(bound to have a few minor mistakes in a world this big) so it has that small advantage. The Xbox version has a much more stable framerate. The Dreamcast version dips pretty frequently in quite a few areas while almost all slowdown is pretty much eliminated on Xbox.
An example of an incorrectly mapped texture being fixed on Xbox
The Xbox version is the only version with an English dub. Now I think the whole sub vs dub debate is completely idiotic and that you should instead compare quality of the VO. I'm quite familiar with Japanese and have played quite a number of games in it and Shenmues Japanese performance honestly isn't much better. Delivery of many lines are still pretty deadpan and not well done. Still though just like the first game there is fun to be had with the cheesy delivery and it gets serious when it needs to.
The Xbox version also has a screen shot feature. Nothing noteworthy but it's neat and I thought I should mention it.
Now the Dreamcast version does have 1 advantage, which is in the save transfer from 1 to 2. You can carry over all your money, capsule toys, and moves you leveled up in Shenmue 1 and bring it into 2. While neat, its not necessary or even particularly useful. All of your money gets stolen 5 minutes into the game no matter what, most of the capsule toys can be re-obtained in 2. The Xbox version just gives you even a nearly complete set of toys you probably had to begin with, and you a automatically unlock all of the 1 exclusive moves without the save file. So really, the one thing the Dreamcast version has against the Xbox version doesn't even matter in the end just because of the way the game plays out in the beginning.
There's not much of an argument to be had here, the Xbox advantages while seemingly small, do add up to a better experience. No disc swaps(Dreamcast is 4 discs), smoother framerates, a couple of improved textures and better lighting. Also the Dreamcast version costs $100-$200, cant be burned without sacrificing audio, and is "rare". I paid $6 for the Xbox version sealed, and it also comes with a DVD of a Shenmue 1 "movie".
Now I
also
played the Xbox version again via the 360 backwards compatibility, and some emulation issues do come with it that are not present while playing on a genuine original Xbox. In 2 areas in Hong Kong, there is a chance that the music just cuts out. It only happened to me 5 times out of a whole playthrough, but its easily fixed by pausing and unpausing. Another issue is framerate dips in a few areas. They aren't big at all and usually don't even happen but the framerate might dip just a little bit in Pigeon Park and one of the areas in Guilin. However a chance of them dipping on 360 is still better than the guaranteed dips on Dreamcast. Either way the FPS drops are not bad at all and don't detract from anything. Those 2 honestly ignorable issues aside the game is perfectly playable on 360 and thats just another edge on the Dreamcast version purely because of accessibility. Some lighting effects don't work either but you probably won't notice.
Don't get me wrong though, no matter what system you play on, Shenmue 2 is an amazing time. You're not really missing or gaining anything significant by picking one or the other but I felt it needed to be addressed.
Overall
Shenmue 2 is absolutely amazing. If Shenmue 1 went to the gym and just got absolutely buff and beefy, this is it. Just like 1, I had an amazing time with its gameplay, getting immersed in this big world, and was hooked on the story from begging to "end". Everyone should play Shenmue 1 and 2, they've become my new favorite games and I hope they do the same for you.
Here's to Shenmue 3 being just as good if not better!
Verdict
Pros




+

Even bigger areas


+

Gameplay that was already top notch is improved


+

Story that was already amazing gets bigger and becomes a bigger focus


+

A bigger game than the first without sacrificing quality


Cons




-

Music not memorable or good enough for my music library unlike the 1st game

10

Presentation


The detail in these areas are incredible. Graphics ahead of its time and still hold up today. Absolutely insane for Dreamcast hardware and even looks better than most Xbox games.
10

Gameplay


The gameplay already was a 10, and it got even better with upgrades and touch ups.
10

Lasting Appeal


There's plenty of reasons for a second playthrough. There's no way you talked to everyone, played every minigame, did every job, collected every toy, learned every move and found every secret the first time through. I played 3 times in a row and am still playing. Even with a 100% completion tag, I feel the game is still interesting enough to go back to anyway.

10

Overall

(not an average)


An absolutely unforgettable gaming experience here. Shenmue 2 has no equal. Its Shenmue 1, which was already perfect, but now even better. Perfection somehow got more perfect. Would give it an 11 if possible.
Share