Product Information:
A luminous entry to PowerA's controller catalogue, we take a look at the Switch variant of the Spectra!
When it comes to unnecessary features on a controller, lights would be the top of my list. Lighting just isn't necessary on something that by design shouldn't be the centre of your attention, but there was something so enchanting about the Xbox Spectra controller we've previously covered. When I was offered the chance to look at its Switch counterpart, I wasn't going to pass up the chance.
Taking the controller out of the box it's nothing special. It has a fairly standard Switch Pro Controller design, featuring all the buttons you'd need to enjoy games on the system. It's satisfying to hold and has a pleasant soft-matte finish that prevents fingerprints from lingering. On top of the usual buttons, you have PowerA's staple remappable buttons hiding on the grips. They're something I really do hope take off since I find them far more comfortable than the more premium-seeming paddles you see in a fair number of high end controllers. Grip buttons by contrast are something I've only really come across with PowerA, though that's not to say other companies I'm unaware of haven't been experimenting.
As with their previous products, no software is required to use these with mapping and remapping done using a button on the back of the controller. They're simple to use and you can swap them out on the fly to suit whichever game you're playing; they were a lifesaver when trying to adjust to the awkward control scheme of Girls und Panzer Dream Tank Match DX.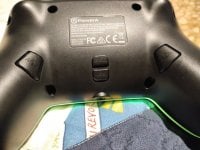 Right next to the remapping button is another extra to manage the controller's signature feature: the lighting. My first impressions were incredibly mixed. Having seen the Spectra Infinity reviewed previously, I had expectations and some excitement for a full and brazen rainbow aesthetic; I wanted something entirely unnecessary and over the top. What I hadn't realised is that having multiple colours going at once was a feature exclusive to the Infinity variant, with this model not existing for the Switch. It's a shame to see what feels like a lesser product being put out when PowerA have shown they're capable of more, but I plugged it in anyway, and frankly it looked great. You can still set this controller to cycle through colours though if that's something you'd want. 
The bars of colour wrapping around the controller and its key buttons are incredibly vivid without having a degree of brightness that could negatively pull your attention away from the screen. It's more a feeling of "wow that's neat" than anything else. The lighting isn't enough to make you think the controller is something ridiculously premium, but it does almost seem too good for what the controller costs, coming in at £29.99.
I can carry this sentiment through to the rest of the controller really. PowerA make some genuinely great controllers, and the quality on show here more than reflects that. Buttons have a satisfying press with no overwhelming mushiness or clickiness. They feel like they need just a but more force to activate than an official Pro Controller, which will be to the taste of some and distaste of others. The D-Pad is pleasant to use, though still falls short of the Pokken Pro pad, which is my personal gold standard of D-Pads. Each direction feels defined enough for general menuing in a pinch, but I wouldn't trust it to get me through a tight level in Mario Maker 2 without being caught out by a phantom up input. It's functional, but by no means exceptional.
Something I've pointed out in my other PowerA controller reviews, the analogue sticks stick out (if you'll pardon the pun) as something really quite special. Of every controller I've tried, official or otherwise, they have the smoothest movement when rotated against the casing. This is something that most people won't think they care about, and really most people probably don't. Having said that, it's just one factor that builds up to a fantastic user experience.
With the Spectra, you really only have a few negative points to pick out. First, it's exclusively wired. It's not something I really hold against the controller, since it's exactly what it's advertised as, but the lack of a wireless alternative may come as a disappointment to some. With it being wired, it also means you're missing a few crucial Pro Controller features in NFC, and more importantly, gyro. What really hurts me though isn't its wired limitations, it's the wire they chose to limit it to. Micro USB. In 2021. It hurts me to type it, and I was disappointed to see it. To give due credit, it's a great braided cable with a nice locking design to keep it tightly connected to the controller in use. If you leave it in the controller, you might not notice it, but it's still something I'm not overly fond of.
All in all though, the Spectra is a fantastic controller that only goes to reiterate what we've said in our previous reviews. PowerA has consistently delivered on quality third party offerings at a price that's reasonable, and the Switch Spectra controller is no different. If you're wanting something for your player two, or just want something handy you won't have to worry about charging, it's an incredibly compelling device.
Verdict
What We Liked ...
Usual quality of a PowerA controller
Great value for money
Remappable grip buttons
Lighting is vivid without being distracting
The smoothest analogue sticks in town
What We Didn't Like ...
Lacking the effects of the Spectra Infinity
Micro USB connection
Overall
PowerA deliver once more on a quality controller at an affordable price. If you want one more glowing peripheral on your desk to comfortably play Switch games with, this is one to look at.