Review: Pokemon: Gold, Silver and Crystal Versions (Retro)
Start Menu Icon and gifs by http://i-am-a-decoy.deviantart.com/ I review all three games, because they are practically the same game with VERY minor changes in each, apart from Crystal that only sports 2 major changes, so it would pointless to review each game seperately.
Release Date (NA): October 14, 2000
Publisher:

Nintendo

Genres:

Role-Playing
Time to catch 'em all! ...again
​
Jaspiter's Review​
​
Of​
​
​
​
​
​
___________________________________________________________________________________________________________________________​
​
Images taken from various sources including but not limited to:
​
deviantart.com​
youtube.com​
tripod.com​
tumblr.net​
​
2000 and 2001 were great years in gaming.
We had games like Metal Gear Solid 2: Sons of Liberty, Final Fantasy X, The Legend of Zelda: Majora's Mask, The Sims, and who could forget Halo: Combat
Evolved
and
Jak and Daxter: The Precursor Legacy
. However, even in the wake of all the big name console releases, handhelds like the
Gameboy Color
and
Gameboy Advance
gained new ground with titles such as
Golden Sun
,
The Legend of Zelda: Oracle of Seasons and Ages
, and the titular
Pokemon: Gold, Silver, and Crystal Versions
for the
Gameboy Color
. Generation II of the series introduced 100 new Pokemon, which were all found within the new region of Johto. These were also the first Pokemon games to contain all creatures from the original game, setting the total to over 250 Pokemon, upon completion of the main quest, including the ability to travel back to the Kanto region from the original three games!
​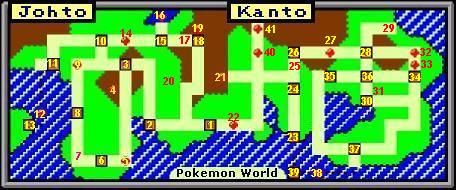 ​
​
​
"

Miyamoto:

I didn't suggest splitting the games because it would allow us to sell more copies of the same thing. I just thought it would be more fun for the players if, say, there were 3 siblings and they all owned something unique. That way, they'd be able to communicate. I didn't want to release separate versions of the games just to increase the marketability."
​
​
​
​
​
​
Although Miyamoto's intention probably wasn't to increase the marketability of the 3 games, that is exactly what happened, with Gold and Silver selling over 23 million copies together, and Crystal selling over 3.8 million worldwide. It was clear that the youth of 2000 were head over heels for Pokemon. I personally owned an original Crystal cartridge, which was famous for the glitter found inside the cart, along with Gold and Silver, of course. At the time, Pokemon Generation II was the GBC game to own -- you took it school, showed your friends, and laughed at the kids who only had that one
Rampage
game that no one dares to mention. It was a new experience, with a new Professor, a new rival, and over 100 new Pokemon to capture, including a whole new story that actually felt coherent compared to the past generation. The handheld perfectly showcased the new color pallet and battle animations that were missing in the previous installments. In addition to this, the Gameboy Color had around three times as much memory as the original Gameboy, with 32 kB of system RAM, and 16 kB of VRAM. With an exceptionally well-crafted battle system, an investing story, and more distinctive locations, Pokemon Generation II was widely recognized to have possibly the best games of all time.
​
​
So what was it that prompted millions to buy the next Pokemon? Was it the name alone? Or perhaps Nintendo's crafty marketing techniques... Whatever the case, Gold, Silver, and Crystal had many new renditions that are definitely worth mentioning.
The Plot
There is never enough to say in regards to the plot in the Pokemon video-game series. Up to this point the game had only been about completing the PokeDEX and thwarting Team Rocket while doing so. However, with the new generation came a new plot: Instead of just trying to defeat Team Rocket members and complete his or her PokeDEX, the player now had to save Slowpokes, rescue a Director, stop Team Rocket's plans at Rage Lake, and a slew of other sidequests in addition to the expansive main quest the game offered. This included the 'new game +' of being able to travel to the Kanto region and face the Kanto Gym Leaders. Kanto also had it's own range of sidequests involving Team Rocket, Gym Leaders, and other things. Pokemon Crystal had more emphasis on the Legendary Pokemon, adding a new storyline with new characters that did not exist in it's sister titles. Indeed, Pokemon Generation II was an enormous improvement upon Generation I.
The Gameplay
​
In Generation II, players started their adventure by setting their clock, showing off the real-time clock that was built into the Gameboy Color. This provided more variety in locations, since each area had a day and night version that sometimes affected events that would occur. The trainer also had a cell phone, that could be used to contact other trainers throughout the region. They would sometimes give info on a rare Pokemon or give the player a rare item. Berries made their introduction as well, and also made use of the internal clock. Various new Pokeballs were designed and implemented, such as the Fast Ball, Friend Ball, Lure Ball, and Love Ball -- the Fast Ball being imperative in capturing legendary Pokemon. Evolution trees of those in Generation I were expanded, like Eevee gaining two new eevolutions: Umbreon and Espeon, again, showing off the internal clock system, as both Pokemon had to be raised in Nighttime or Daytime environments, respectively. Another thing to note is the new Friendship system that involved varying levels of friendship between the Pokemon and it's Trainer. Some Pokemon could only evolve depending on their friendship with their trainer, Umbreon and Espeon being prime examples of this.​
​
​
​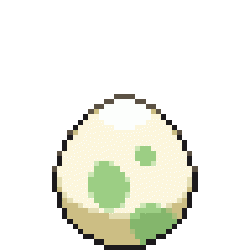 Hatched Pokemon start with more Friendship than one caught in the wild.​
​
​
​
Another new feature that the generation introduced was Shiny Pokemon. Shiny Pokemon were Pokemon whose color was different from the typical color for that species. Shiny Pokemon would appear in a wide range of colors, making use of the video RAM that the GBC had to offer.
Instead of selecting Squirtle, Charmander, or Bulbasaur as a starting Pokemon, as per Generation I, the player now had three new choices, piquing their interest of the new Pokemon the games had to offer: Totodile, Cyndaquil, and Chikorita. In addition to this, each Pokemon had their own gender, as well as being able to hold items. This allowed for battles to have an extra layer of strategy, for instance, allowing a player to make their Pokemon hold a Poison Cure Berry which would be eaten when the Pokemon had been inflicted with Poison and didn't waste a turn. The SELECT button now acted as a 'Quick Item' key that the player could set to any of their key items so they could be used without opening the menu, and the bag also changed, now split into different compartments.
Of course, this generation introduced it's own set of problems. For one, only Crystal gave the player the choice to play as a girl or boy, as well as being the only Pokemon game up to that point with battle animations. The ability to print pictures was present in these titles as well, except with the poor marketing of the GameBoy Printer, few had one to take advantage of the feature. Also, if one had both Silver and Gold, there was virtually no reason to Crystal other than the addition of the Legendary Pokemon sidestory. Still, all three games have stood the test of time as some of the greatest Gameboy Color games of all time.
Verdict
Pros




+

- Retains the feel of RBY while adding alot more


+

- Anticipated gameplay improvements that carry throughout the series


+

- New game+ having all Pokemon from before


+

- First Pokemon game to have an actual story that spans the whole game other than 'Get the badges'


Cons




-

- Not much reason to own Crystal if you already have Gold and Silver, unlike Yellow

7

Presentation


The music is as memorable as the original game, along with the color improvements that were very fresh at the time. Arguably, the game could have featured a better graphical overhaul, as the new system had more memory to work with.
10

Gameplay


A great saying is that "If it ain't broke, don't fix it!". That rings true for this series. Pokemon RBY had a great system, and the only thing that could be done to improve it is by adding more elements on top of it.
9

Lasting Appeal


It's a Pokemon game. I know that's not saying much, but the game has stood the test of time as being an enjoyable experience. Both Johto and Kanto offer a new perspective on the series, and now with the remake on the DS, the game can be enjoyed in all of it's glory on practically any device from a portable gaming system to a mobile phone. Many find the Pokemon series to repetitive -- if that is the case, don't play Pokemon.

9.5

Overall

(not an average)


When reading this review you might have noticed the lack of any hard cons pointed out in the writing. Well, this is completely intentional. See, nothing really bad happened with this new addition in the series. There are a few bugs here and there, but nothing that will drive away people from this game. When I write, I try to be critical of a game, and that's hard when it doesn't have that many faults. Pokemon Generation II is certainly a great game, but of course, if you didn't like the original, then you will not like these. That is not the game's fault of course, it is just a matter of taste.
Share