Until now, the mini-PC market was mostly dominated by Intel's NUC line, but its weak performance held back widespread adoption, especially among those looking for a compact device that does not compromise on performance. The DMAF5 from China-based Minisforum aims to revamp the mini-PC hype by competing directly against Intel's NUC by integrating AMD Ryzen 5 3550H; all packed in a 12.8 cm x 12.8 cm x 4.8 cm form factor.
But it does not end here with the DMAF5 as the mini-PC further supports upgrades to its storage and easily-accessible internals. With the performance it promises with AMD's APU and the added benefit of modular upgrades, I was intrigued by what the device could deliver.
Contents and first impression
In its appropriately compact box, the DMAF5 comes with the following accessories:
DMAF5 mini-PC
Instruction booklet
VESA mount and screw set
Charging brick
HDMI cable
DisplayPort cable
Officially, the DMAF5 is said to come in a matte aluminium casing but that extends only to the grey part of the chassis on the sides of the device, while the bottom black part and the top lid are made of hard plastic; not that the material makes it look cheap. On the contrary, the mini-PC looks sleek and rather minimalistic in design as there are no ports on either right and left sides of the device. You'll only find the ports in the front and back; ports which the device has plenty of by the way (3.5mm Audio Jack, 4X USB 3.0, 1x USB-C, 1x Display Port, HDMI, 2x ethernet ports).
A design feature of the DMAF5 that I am particularly fond of is the ease of access to its internals and how it was evidently designed with the expandable aspect in mind; an aspect that Minisforum incorporated cleverly. By pressing the lower end of the top lid, the latter pops off to reveal the inside where you can access the SSD and RAM for maintenance and upgrades. My unit came with only one stick of 8 GB RAM but you might want to add a second one for better performance, especially for gaming or more demanding processes.
Additionally, the pop-up lid doubles as a housing for a hard drive as you can mount one at the back with the screws provided for additional storage (the DMAF5 supports a 2.5 inch SATA3.0 HDD or SSD). This compact, yet upgrade-friendly approach attests to a true design marvel considering the sheer size of this PC and does a great initial impression.
Now that we've been through the impressions, let's check the specs and performance.
Specs
Before diving into the performance, you might be interested in the DMAF5's specs, which you can find below:
Processor AMD Ryzen 5 3550H(2.1GHz~3.7GHz),4 Cores 8 Threads
GPU Radeon Vega 8 Graphics(1.2GHz)
By setting BIOS, 1GB / 2GB DDR4 can be used as dedicated Memory of Graphics
Memory 8GB×2 / 8GB×1 DDR4-2400 Dual channel (SODIMM slots×2)
Storage 1×M.2 2280 128GB/512GB SATA SSD (up to 2TB support)
Storage Expansion 1×2.5 inch SATA3.0 HDD or SSD Support
Wireless Connectivity M.2 2230 WIFI support (Intel® WiFi 6 AX200,BT 5.0 pre-install)
Video Output ① HDMI 2.0 ([email protected]),② Display Port ([email protected]) ③USB-C ([email protected])
Audio Output ① HDMI 2.0 , ②3.5mm Audio Jack ③Display Port
Peripherals Interface RJ45 Gigabit Ethernet×2 ,USB 3.1×4 ,USB-C×1
Power DC 19V/3.42(adapter included)
System Windows 10 Home
Feature RTC wake up/Wake on Lan/Power on auto power on (BIOS setting) / Network boot/TDP35W
Weight: 1.4kg
At the time of writing, this mini-PC is priced at $399 without RAM or SSD while the full-option 32 GB RAM and 512 GB SSD goes for $649; there are also other RAM/SSD options between those two extremes at different costs. You could have gotten one cheaper by backing it on Indiegogo but the campaign is over, so you should be looking at the regular price from now on. But since the DMAF5 is upgrade-friendly, you could purchase the base model and upgrade it with parts of your own.
Performance
The model I received is the 8 GB RAM/ 256 GB SSD one and is currently priced at $499 on Minisforum's store. While you will obviously make the most out of the device if you purchase the full-option model or add another RAM stick for dual channel performance, I wanted to see how it performs out of the box, so as to see how the cheaper option performs.
So, as expected, this mini-PC is well-suited for regular internet browsing, video and music streaming. I even used it for some light Photoshop to make review banners and it handled those without any issues. If you are on the market for a mini-PC for these purposes, the DMAF5 won't disappoint. Its small footprint will also enhance your setup with a minimalist aesthetic, if that's your appeal. Importantly, it will help declutter your desk (save for wires; unless you opt for wireless Bluetooth peripherals) and you can even mount it at the back of your monitor for a seamless experience.
Then I went for gaming and started out the gentle way with some retro games emulation. PS1 and Dreamcast titles I tested all worked fine at a stable 60 FPS. When I started testing PSP games with PPSSPP, I came across some dips in performance with the default settings. Ridge Racer would run at 60 FPS while Metal Gear Solid: Peace Walker ran at 20 FPS. I had a similar experience with GameCube games via Dolphin emulator. Metal Gear Solid: The Twin Snakes played at a smooth 60 FPS while The Legend of Zelda: Twilight Princess topped at 30 FPS. Then I decided to go the extra mile and ran The Legend of Zelda: Breath of the Wild via CEMU. The game did run but at a measly 15 FPS tops. I didn't have much expectations as I knew I was pushing the limits of the device, so I decided to move to PC games.
That's where the DMAF5 and AMD's APU pleasantly surprised me. It allowed the original Crysis at 40-60 FPS (on high settings). While even a small device as small as the Switch now runs Crysis, some years ago, it would melt someone's brain at the thought of playing this benchmark game on a mini-PC that fits in one's palm. However, when I moved to newer games like Ghostrunner, I came across less optimal performance which fluctuated between 30-50 FPS (with settings on medium/high).
But keep in mind that these performances reflect that of the device running on only a single 8 GB RAM stick and switching to a dual channel and/or upgrading RAM capacity would have a much better result. So really, the DMAF5 does perform quite decently for such a tiny device out of the box, with the option to perform even better with DIY upgrades. But these upgrades will bottleneck at some point and might not match a similarly-priced desktop PC tower.
I'd also like to note that the massive fan (for its size) does an efficient job at cooling the device, especially when gaming. It does emit an audible sound but it's totally bearable; and if you have any music on playback or are blasting your games' audio through your speakers, then the fan is easily drowned.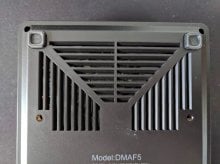 One issue I had with this PC is with WiFi connectivity. Even after multiple driver installs and re-installs, I would have either really poor connection or none at all. However, in the same room, I have no issues connecting my main laptop, phone and other devices. I had to move to a room closer to the router in order to use the DMAF5. It might be an isolated issue with my unit, so hopefully you don't come across this as well.
Wrapping up
Similar to the X35G mini PC we reviewed previously, Minisforum impresses with its mini PC, this time with AMD APU on the DMAF5. It packs great performance from the get-go, with the potential to improve with easy upgrades. It's leaning on the pricier end of the spectrum now that the crowdfunding campaign is over but the appeal is the tiny form factor without compromising on performance and upgrade options. I would highly recommend it if you are looking to go the minimalist way and want to declutter your desk with a mini PC that will still deliver decent gaming experience.