Let's take a trip down memory lane with the game that spawned a video game series of legendary proportions: Metal Gear on the MSX2. More specifically, this will be an aural trip with the game's soundtrack on a vinyl record from Mondo.
I'm a huge fan of the Metal Gear Solid series and anything Metal Gear related. But well before the iconic Metal Gear Solid on the PlayStation came Solid Snake's first mission in Metal Gear on the MSX2 console. It's a title that I got to know well after having played MGS entries but I could still see gameplay elements that perpetuated in later installments. But it's not just gameplay elements that recur but also some of the audio score. Soundtracks like Theme of Tara and Red Alert will sound familiar to those who've played Metal Gear Solid games.
Mondo's Metal Gear – Original MSX2 Video Game Soundtrack features these OSTs and more on a heavyweight, opaque "solid green" colored vinyl record cut at 45RPM. Mondo's record is, as is customary by now with the company's video game soundtrack releases, faithful to the original. It gets the retro tunes right for that auditory nostalgic trip and got me itching to boot the game and embark on a retro stealth mission; rekindling the feeling I experienced when listening to Mondo's Metal Gear Solid soundtrack vinyl.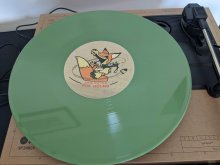 The YouTube video below gives you an aperçu of what to expect with this one (in fact, it's more than an aperçu as it contains all tracks on the record):
What also evokes nostalgia is the highly detailed artwork on the cover and on the inside of the sleeve. This all new original artwork by Paul Mann depicts the military presence typical of Metal Gear, the titular bipedal weapon and, of course, Solid Snake. The sleeve also has a satisfying feel with its matte finish that somehow adds to the retro vibe of the artwork.
However, the artist's depiction of the iconic character could be controversial. Personally, while I think Snake is highly detailed and bears blond hair as with the original MSX2 game, he doesn't look much like Solid Snake from either Metal Gear or Metal Gear Solid to me. Sure, the artist is free to feature his own interpretation of the protagonist but when much else has been faithful, like the soundtrack, metal gear itself and the Fox Hound logo, it's rather striking that the main character is depicted differently. 
Of note, the back cover's print appears to be tilted but I believe that it is an intentional effect, perhaps trying to emulate a retro feeling (supplemented by the typewriter font). One subtle design that I've loved in the back cover is the Mondo logo depicted similar to the codec. You might miss it but it's such minute attention to details that make the product stand out.
In any case, if you're a fan of Metal Gear or a collector of vinyl records, this restock of Metal Gear – Original MSX2 Soundtrack from Mondo will surely justify its $20 cost.
Verdict
What We Liked ...
Great memorabilia for Metal Gear/MGS fans or collectors
Faithful soundtrack
Product quality
What We Didn't Like ...
Solid Snake doesn't really look like Solid Snake on the artwork
Overall
Mondo strikes yet again with a quality vinyl record of the MSX2's Metal Gear soundtrack that will please Metal Gear fans and collectors alike.