Are you still stuck at home, working or schooling remotely and you need a basic-ass, cheap laptop to do it on? HP's answer to that is the HP 15-dy1xxx series laptops, with lower-mid end specs and features that are designed for productivity and work for anyone on a budget. Today we'll be taking a look at how this laptop performs in day-to-day tasks, as well as checking out how it may perform for gaming "after hours."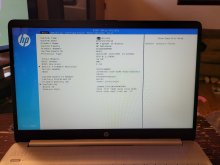 The stock specs of this particular model of the HP 15 dy-1xxx are:
CPU: i3-1005G1, 2 cores/4 threads running at 1.2ghz base, 3.4ghz boost
RAM: 4GB DDR4 2666 (upgradeable to 32GB)
GPU: Intel UHD G1
Storage: 256GB SK Hynix NVMe
Screen: 15.6" 1366 x 768 glossy touchscreen, 220nits brightness.
Webcam: HP "TrueVision" 720p HD Cam
Ports: 2x USB 3.1 Gen1 Type-A, 1x USB 3.1 Gen1 Type C, 1x SD card slot, 1x HDMI 1.4a, 1x headphone/microphone combo jack.
Battery: 41.7 WH
OS: Windows 10 Home
However, because this is 2021 and we're not living in the stone age anymore, I decided to pick up some extra RAM to make the HP actually usable, expanding it to 16GB for a measly $40 extra. All benchmarks and tests on this laptop will be run under this upgrade, as 4GB is no longer acceptable in this day and age.
Before we boot it up, let's take a look at the overall construction of the laptop. The chassis itself is made of plastic, with a silver finish on the outside and a "brushed silver" finish on the inside, which gives it the appearance of being brushed aluminum...but it isn't. In regards to flex, I was actually quite surprised: despite being made of plastic, the bottom of the laptop barely flexed at all during normal use-case, which is good. The keyboard is also quite impressive for something this cheap; it's full-sized, which makes it nice to use when number crunching, the keys have excellent stabilization, and they make a fairly pleasant clicky sound that's not too loud and annoying but also not quiet enough to make you question where you hit a key. The trackpad, however, is unfortunately on the smaller side, measuring 4.5in x 2.5in (5in diagonal) despite there being an ample amount of space for them to increase the size to something a bit more...usable. Screen to body ratio is also pretty decent for a laptop in this price-range, measuring at 82% with 6.5mm vertical "micro" bezels. Keep in mind the screen itself does utilize a glossy finish, which can present a couple of issues which may be turnoffs for you: first and foremost, fingerprints. The HP 15 does include a touchscreen as standard which is nice, but unfortunately it seems to be a fingerprint magnet. This isn't a terribly huge issue, since the laptop doesn't actually fold down like a 2-in-1 so it's unlikely to see much use anyways, but will be something you notice if you ever do use the touchscreen. Secondly is the glare--if you have any kind of light source behind you, you're going to have a bad time. Another issue, HP claims the screen is an "SVA" panel, which should have really good viewing angles...but I suspect my model is using TN, because the viewing angles are perhaps some of the worst I've encountered on a laptop this new. Unless you're looking straight on, you're going to see the usual TN distortions which is quite disappointing for a late 2020 laptop.
Next we'll take a look at the internals, which will give us a better idea of what to expect for upgradeability. Overall, it's actually pretty decent! The bottom cover of the laptop is held on by 9 screws, with two clearly available on the outside edges of the chassis and the remaining being hidden under the rubber strips, and uses clips around the edges which will require a plastic spudger to unclip to avoid damaging the cover. Taking a look at the motherboard, the first thing you'll notice is a big chunk of unused space which could have easily been used up by additional battery capacity, as the battery included is only 41.7 WHs and is fairly small. Next, you'll see both the RAM and NVMe slots are easily accessible, allowing you to upgrade both your RAM and your storage if you ever need to do so. The wifi chip is also easily accessible if a replacement ever needs to be purchased, with the original being a Realtek RTL8821CE 802.11ac/BT 4.2 combo. For cooling, HP didn't include much, utilizing a single heatpipe on the i3-1005G1 connected to a small heatsink, with a singular fan pulling air up from the bottom and out of the chassis from the keyboard deck. All in all, the HP 15's internals are pretty simple and easy to get at, which is good for a budget laptop like this.
Now that we've taken a good look at the HP 15 inside and out, we can finally boot it up and check out how all that hardware actually performs! I've run through a few tests to gauge general performance of the system, including synthetic benchmarks like PC Mark 10, Geekbench 5, CrystalDiskMark, and Cinebench R23, and I've also tested some emulators and a few lower-end/older games to gauge the "after hours" gaming capability of the system. The first thing we'll look at are the synthetic benchmarks:
Cinebench R23:

SingleCore - 1037
MultiCore - 2237

PCMark 10:

Total - 3422
Essentials - 7860
Productivity - 5309
Digital Content Creation - 2609
Battery Life Test - 8 hours 15 minutes

Geekbench:

SingleCore - 1101
MultiCore - 2485

CrystalDiskMark: 2250/1000mbps read/write
As you can see, the i3 included in this particular laptop isn't too much to write home about for the most part. The single core scores are actually fairly impressive, with single core scores matching various higher end mobile CPUs like the Ryzen 5 4600H on AMD side or the i7-7820HK on the Intel side, and even managing to match desktop CPUs like the Ryzen Threadripper 2970WX and the Core i7-6900k...but multi-core workloads are certainly hampered by the 2 core/4 thread design, barely keeping up with older 3rd/4th generation i5's in some cases. If you do a lot of multitasking, you'll certainly get better performance out of any AMD mobile CPU at this price point, so that's something to keep in mind when laptop shopping. Storage is taken care of by the 256GB SK Hynix BC511, which is a lower/middle end drive included in a lot of lower end laptops that utilize NVMe storage. It's not particularly high end, but it's certainly more than capable of keeping your system nice and snappy and should be more than enough storage for basic kinds of work. For battery life, I ran the PCMark 10 "Modern Office" battery benchmark included in their software, which loads up different kinds of productivity applications and scenarios sprinkled with some occasional idle time to simulate real world workloads. HP claims the laptop will net you 11 hours and 30 minutes of battery life with "mixed usage," but PCMark 10's test was more along the lines of 8 hours and 15 minutes to go from 100% down to 7% before the laptop put itself to sleep. This is still more than enough battery life for your average 8 hour work day, so if you need to work away from an outlet for any extended period of time, this is certainly the laptop to do it.
In terms of gaming performance, I ran just a few older, simple PC games to gauge the performance of Intel's "UHD G1" iGPU included in the i3, and so long as you're ok with older titles and low performance, you can certainly get away with more than you'd expect when it comes to PC gaming. eSports titles like Rocket League and Counter-Strike: Global Offensive are able to maintain a steady 60fps when played at 720p with mostly low settings, and that remains true of older titles like Skyrim, Fallout 3, and the Half-Life 2 series of games. Indie titles, like Stardew Valley, Factorio, Duskers, and Everhood will run great on virtually anything, and such is the case here. Emulation, however, is where this thing truly shines. Dolphin, for example, has so far been able to run any game I've thrown at it without issue. with up to 2x native res. PS2 games also manage to run pretty great, with a few tweaks here or there, with games like Shadow of the Colossus able to maintain a steady 30fps most of the time. I've even gone as far as to test some games on Yuzu, like Animal Crossing: New Horizon, Pokémon Sword, and Mario Kart 8 Deluxe, all of which were on the slow side, maxing out at only around 15fps during gameplay and basically unplayable...but if you really wanted some Mario Kart 8, Cemu runs surprisingly well! With a full shader cache, I was able to get a nice 55-60fps, which is very impressive for this little i3! Other Wii U games also run fairly well, with a steady 60fps in Donkey Kong Country: Tropical Freeze, steady 30fps in Legend of Zelda: Twilight Princess HD and Wind Waker HD, although Breath of the Wild isn't quite playable even with the various optimization graphic packs around, but that's still certainly amazing for a budget machine!
So, should you pick up the HP 15-dy1025nr? At full price, definitely no. For the $400-$500 it retails for currently, there are simply plenty of better options out there with better components than you'll get here. But if you don't have a lot of cash to spare and can find it cheap/on sale (like I did, for a resounding $270 including the RAM upgrade), then sure! The build quality is better than expected out of this price point, performance is more than enough for your basic kinds of office work, and if you want to occasionally emulate some of your favorite Wii or Wii U games when you want to procrastinate with work, this is more than capable of doing the job.