The Glorious PC Gaming Race isn't just a hyperbolic term to throw at PC users⁠—it's an entire company, of which is dedicated to creating niche hardware for the discerning gamer. Glorious has done instrumental work in making hot-swappable keyboards mainstream, turning a gaming keyboard into a piece of tech that's just as modular as your computer. One of the most important facets of a keyboard is its keyswitches; coming in just about any colour under the rainbow, there are endless amounts of different ways you can customize the feel of each click and clack you make. Whether it's Cherry MX Blues, Gateron Yellows, or Outemu Browns, you're given a lot of choice as to how you want to control your game. Glorious has decided to go a step further beyond that, debuting the Glorious Panda Switches.
There's actually some drama revolving around these switches⁠—the Panda switches were originally the name of an old analogue keyswitch from INVYR. They managed to see a handful of incredibly niche re-runs through Massdrop/Drop, and due to this, are ridiculously hard to find without paying outlandish amounts of money, if you can even locate someone willing to sell them. Enter Glorious, who after finding the original presumed lost blueprints to the switches, decided to make their own "Holy Pandas". However, attempting to go with that name sparked major controversy within the keyboard community. Glorious, who appeared to have their heart in the right place in only wanting to produce these switches for eager fans, then dropped the trademark of "Holy" from the name, leaving us with a dramatic story and amusing name of Panda switches.
At the time of writing, the Pandas are not available to buy, as they're entirely sold out--a common theme of anything involving gaming and elusive pre-order windows these days. Thankfully, they're planned to come back in stock, "soon". When they do come back, you'll be able to grab them at a rate of $24.99 per 36 keyswitches. Even if you're rolling with a 60% keyboard, 36 is not enough to cover the entire board, though if you're interested in just applying them to your letter keys and a few important ones like enter, backspace, and the arrows, you'll be good. Otherwise, for a full-size keyboard, it'll require 3 packs ($75) of the Pandas to outfit your keyboard from A to Z in their tactile glory. By comparison, Drop's own take on the Holy Panda will set you back $110.00 to fill a full-size keyboard, giving Glorious a pretty big price advantage.
Arriving in a tiny little box, the Panda switches come securely packed. Considering that these hot-swappable switches need to be treated with care, lest their pins be irreparably bent, I was happy to find that each and every one of the 36 switches arrived in perfect condition. The stems are a nice orange creamsicle colour, with a nice ivory-white casing that has the Glorious name etched onto each one. Something to note is since the casing isn't transparent, keyboards with RGB backlights are going to have a harder time shining lights through them. There's a small slit punched through the switches so that you'll still get some RGB goodness, and the lack of glow isn't that entirely noticeable, but if you're running a pudding keycap set, or you have a keyboard that you like specifically for its RGBs, you might want to be wary.
With that out of the way, we can move onto the important stuff: how the Pandas feel. They're immediately, noticeably different to any other keyswitch I've tried in the past, to the point where I now understand the excited fervour over the entire Panda debacle, and why these switches sold out near-instantly. The Pandas feel like a combination of some of my favourite aspects from a variety of other keyswitches; they have a low "thocc thocc" sound when typing rather than a click clack like Topres do, they're amazingly tactile⁠—they have the "bump" and response of a Brown switch while still giving a ton of feedback and snap like a Green switch would, and finally, they require some heavy commitment with each keypress as they actuate at 67 grams of force compared to the 45g that, say, a Cherry MX switch would take.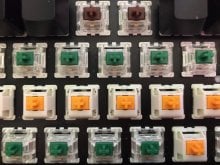 With the Panda switches requiring that much force, you're never going to accidentally hit a key when resting your finger on the home row. It could potentially get tiring for your fingers to have to exert that much force for each keypress, but at the same time, it's the closest that I've ever felt a keyboard has come to having tactility that could rival a controller's d-pad and its clicky nature. To keep this comparison as basic as possible for those that might not understand the details of keyboard lingo, this is pretty much a Cherry MX Brown switch, but smoother, better⁠—evolved, perfected? Each press is immensely satisfying, and I found myself quickly shoving the rest of the keyboards I own off my desk to specifically use the GMMK outfitted with the Pandas, whether it was an FPS or even a 2D platformer.
While I can't say I'm too invested in the greater meaning of Panda switches⁠—holy or not⁠—being back on the market, I can say for certain that Glorious has created a keyswitch that takes some of the best features of other switches and combines it into the greatness that these tactile switches are. Anyone willing to have some serious typing or gaming feedback from their keyboard will want to get their best F5 game going and start refreshing the page until the Glorious Panda Switches come back.