Product Information:
Release Date (NA): June 24, 2022
Release Date (EU): June 24, 2022
Publisher:

Nintendo

Developer: Koei Tecmo
Genres:

Action
Game Features:
Three years later we venture back into Fodlan for some hacking and slashing with a pinch of strategy in Koei Tecmo's latest Warriors mashup!
Oh boy here we go again. It's Warriors, it's Fire Emblem, it's Fire Emblem Warriors! I want to get my usual Warriors disclaimer out of the way from the start to just avoid wasting time. It's a Warriors game, you know what I'm going to say. You hack, you slash, and I'm fairly sure you already know whether you enjoy the base gameplay. With that said, let's get into it.
This is Fodlan, but not quite as you know it. Completely separate from the events of Three Houses, Three Hopes starts the story before the upstart professor Byleth gets the chance to meet the house leaders and join them in their respective ambitions. Instead we get to catch a glimpse of Byleth's mercenary days as the Ashen Demon, and pip them to the post in meeting the house leaders. What this ultimately does is splinter the timeline and take us on an entirely new journey. It's a really interesting premise for a second game set in Fodlan and provides a lot of creative liberty in the writing to build on the lore of its predecessor and give screen time to characters that previously fell into the shadows. To this end, the game spends far less time on the common events of all three routes, instead opting to devote as much of the game as possible to the new and unique events. This avoids a lot of treading water for people already familiar with Three Houses, and while it does spoil a few events, keeps the majority of its strategic predecessor to one side so as not to ruin it for those who happen to pick up Three Hopes first. I would say knowledge of Three Houses enhances the overall experience, but the plot comes together in a way where it's not as necessary as I thought it would be. You have three core routes to sink your teeth into here, and with my first playthrough clocking in at 30 hours, that's a lot of content for those wanting it.
While the core gameplay is characteristically Warriors as I said at the start, I do feel the game should be commended for just how well it blends in elements of the Fire Emblem franchise. The original Fire Emblem Warriors game did this by introducing a degree of strategy in being able to order inactive units to areas of the map to complete objectives by themselves, but Three Hopes takes this union of genres to another level. It really does just feel like Three Houses if you take out the classroom elements.
Your cast of characters, much like Three Houses, is entirely dependant on your choice of house. Every character has a preferred class and path of progression, but you're entirely free to ignore this and customise your army to your liking. This is a stark change from the original Fire Emblem Warriors where each character had a locked in moveset, many of which being duplicates of an already-limited cast of characters. I personally like being able to use my favourite characters and pick and choose which weapons and classes I like the most to pair with them. It ultimately means your moveset choices are limited by the number of classes in oppose to the number of characters, and this works well in the context of a Fire Emblem mashup. If like me you become attached to certain characters, you can work towards mastering each class to keep the gameplay feeling fresh without having to pull out your undesirables just because they have that one unique weapon you might want to try out.
Support ranks and conversations return, and for fans of the Fodlan cast you have an absolute encyclopaedia of additional interactions. I was religious in viewing these at the start of the game, and the writing is just as good as its predecessor. I won't lie though, after 30 hours I did find myself just skipping them to get rid of the notification icon on my menu. The support conversations aren't a large part of the game for me, but knowing I can just go back and watch them later anyway I didn't feel too bad. On top of support ranks, you also have a new variant of the teatime minigame in the ability to go on expeditions with your allies. There's not really much to say here if you're familiar with teatime. You go on a little date and a picnic with a character of your choice to boost your support ranking and stare at their face up close for a bit. Again this isn't really for me, but it's also entirely optional, so it's not something I'd really hold against the game.
Moving past character interactions, Three Hopes has a lot to keep you busy between your Warriors hacking and slashing. Your camp serves as a constant base of operations as you progress through the story, and has characters littered around it to talk to. On top of this, you have a number of facilities to aid you, each providing a useful function that can be upgraded using resources. Between upgrading facilities, training characters, and forging weapons, you find money and other resources stretched unless you're willing to grind out maps on completion. Being a fan of older and more linear Fire Emblem titles, I'm actually really fond of this thanks to the additional level of strategy it adds to the game. It naturally doesn't play quite as heavy a part as it might have in a game like Shadow Dragon, where you can find yourself rationing out your best weapon due to limited uses, but it still pushes you to make decisions for yourself to progress in a way that's most meaningful to you.
When it comes to difficulty, the best I can do is describe it as fine. You start with three levels in Easy, Normal, and Hard, each being swappable on the fly if you find yourself feeling too strong or too weak. I found that early on, Hard difficulty just made the game take too long, with enemies sponging hits to a degree that I wasn't having fun. This is made worse by the fact each chapter is ranked, requiring you to beat a set number of enemies and beat the map within a set time limit to get a one-time reward. Once you get going with the game this evens out a lot, but the starting few chapters can be quite off-putting if you happen to hit that wall. The game does actually feature a fourth difficulty option to mirror Three Houses in its Maddening mode, this unlocking exclusively after completing the game. Maddening is an appropriate title, with enemies in the first chapter being around Level 120. For context, the level cap in this game is 255, and my strongest character came out to around Level 70 when I finished my first play through. Surprisingly though, I had a blast going straight into Maddening. Between the stat boosts I had fed my main party along the way, as well as the weapons I'd refined, that gap of 50 or so levels was somewhat evened out for a challenging experience that was deceptively not maddening. For those not wanting to go through this however, the game does provide you with the option to level down your cast when moving into New Game Plus. This means you can go through a fresh route on a more standard difficulty setting without completely overwhelming every map. It's great to have both options available.
Though I won't talk about it in depth for obvious reasons, I do want to say how much I enjoyed the overall plot. It's different to Three Houses, but it's different in a way that doesn't necessarily stray from any of the established lore or knowledge you might have brought with you. It feels like a supplementary experience that explores a "what if" timeline that's sparked by something as small as a different mercenary meeting the lordly trio. The Warriors environment also proves to be a fantastic match for the war-torn story, with almost all of the game naturally being in this setting. It does feel as though there are fewer twists and turns when compared to Three Houses, but it's certainly not without a few of its own to keep you invested.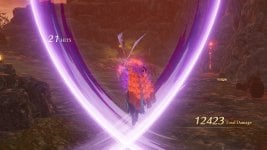 One last point I did just want to touch on in brief is how the game looks and performs on Nintendo's hybrid wonderkid. I did previously praise the game when looking at the demo for how well it ran, and I am disappointed to say this doesn't carry into the full game as well as I'd have liked. The camp area in particular seems to tank the game's framerate more than any of the battles, which is really quite odd. For the most part the battles do seem fine, but on some of the larger maps with a lot of effects on-screen, you will see dips and stutters. It's not perfect by any stretch, but it is definitely playable. Graphically the game looks characteristically 'Switch'. You know the console you're playing it on, and it doesn't try to really push the boat out. It's rough around the edges, but not offensively so as to detract from the larger experience.
All things considered I do feel this is a new peak for Warriors mashups, and an absolute gem of a title for Fire Emblem fans wanting some great writing and a rest from the aggressive strategising of the main series. This is a trip back to Fodlan that ticks all the right boxes for me, and it's a game I can happily recommend to any fan of Fire Emblem or anybody looking for their next Warriors fix. It's brilliant.
Verdict
What We Liked ...
Great Warriors action
Meaningful incorporation of Fire Emblem elements
Interesting new storyline
Plethora of new character interactions
What We Didn't Like ...
Great Warriors action
Performance isn't perfect
Difficulty can be frustrating at the start
-
Gameplay
I'm not going to score this game on its gameplay just for how divisive Warriors gameplay is. If you enjoy the style of game, you'll have a grand time. If you don't, you'll get bored quickly.
7
Presentation
Graphically speaking, Three Hopes is very middle of the road, and characteristically a Switch game. It looks rough around the edges, but not so much as to pull you out of the action.
9
Lasting Appeal
There's so much to do here as long as you have the stomach for hours upon hours of Warriors gameplay. This is a game that I would recommend tackling a route at a time, broken up with something else in between. There's plenty to be coming back for, and for fans of Fodlan it's more than worthwhile.
Overall
Fire Emblem Warriors: Three Hopes stands among the best Warriors titles in my eyes, and it's a game I've thoroughly enjoyed playing. For fans of Fodlan wanting to see their favourite characters one more time, it's an absolute delight.