EPOS' first audio device that I tested, the GTW 270 Hybrid, delivered on the audio quality but lacked some essential features like volume control and a dedicated storage for its Bluetooth dongle. While this was an earbud where some features might need some trimming, I was intrigued to see how the audio company would fare with a dedicated gaming headset--the GSP 602.
Before diving into the review, you can have an idea about the device's specs below:
Image courtesy of EPOS

This headset is part of the company's 600 Series, which isn't really new but the 602 model under review is the latest color variant in its portfolio. I was particularly drawn to the metallic blue-brown color combination and the actual product does not fail to impress this unique palette.
The GSP 602 has a decidedly aggressive gamer and bulky look (sans RGB, mind you) which I wouldn't really recommend to use outdoors, but it's advertised as a dedicated gamer headset anyway so it's likely to stay by your gaming station. Moreover, EPOS does not sell a carry case for this headset so you might also not want to risk taking it outdoors even if it feels durable. Indeed, the GSP 602 has a sturdy build with a tough plastic body and solid metal hinges, although I would expect some more premium material for the body with its $‌219 price tag.
Nevertheless, the plastic body makes the headset relatively lightweight at 395g and comfortable to wear for extended use. You can also easily adjust the nicely padded headband for an individual fit so that you don't feel it pressing too much on your ears. Once adjusted, the headband stays in place unless you intentionally pull on its sides.
The well-padded ear cups also comfortably surround the ear for a closed acoustic experience that efficiently blocks surrounding sounds while also preventing audio from leaking to your surroundings. They have a rather peculiar, triangular shaped opening for the ears but they do fit well around mine without any issues. With their large size that go well above my ears, I was worried that they might not accommodate glasses for bespectacled people like me. Thankfully, I've had no issues in this regard and didn't feel the headset pressing on the arms of my glasses much, likely thanks to the thick padding in the ear cups.
There's also a hinge mechanic to the ear cups at the point where they meet the headband. This allows them to rotate the hinge which adds some slight adjustability while you are wearing it and I feel like this adds to the overall comfort as well.
You can also replace ear cup pads for different colors or if they have been damaged. Similarly, you can swap the cover plates on the sides of the headband bearing the EPOS logo for similar purposes.
Even if they are ergonomic and comfortable to wear, I found that the ear cups accumulate moisture and even sweat if you are in a warm environment. That's because while the closed acoustic design aids in passive noise attenuation, it also blocks aeration so that sweat and moisture can accumulate in the long run. But this is an issue I've encountered with other headsets as well.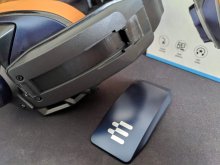 Comfort aside, the other, if not most, important aspect of this headset is of course the audio quality. As with the GTW 270 Hybrid, EPOS hit the right chords on the audio department. The GSP 602's output is even of superior quality to the GTW 270 Hybrid as it is a full-blown headset. The soundscape is a balanced one with the bass and treble that enables music from my Spotify playlist to sound warm and it even picks up fainter audio cues that are lost in lower-end headsets.
This audio quality is also reflected on videos that I streamed and, of course, games. I've tried it with Narita Boy on the Switch where the electronic soundtrack is quite distinctive and listening to it through the EPOS GSP 602 helped add to its "neo-retro futuristic" ambiance. On PC, I'm playing Outriders and as a shooty-bang-bang genre, you can clearly hear each shot, explosions and the grunting enemies faithfully reproduced with the GSP 602.
If you're into competitive and/or co-op gaming, the GSP 602's boom arm will do a fine job to communicate with. I've also used it on calls and it clearly picks up my voice for the other end every time while in use. It also has a handy lift-to-mute feature where lifting it up past an audible 'click' will automatically mute the mic. The arm's position is also adjustable so you can easily bring it closer to your mouth for the optimal voice pick up position. However, I wish the mic was removable but then again it's meant for indoors use, so there's no need for that really and lifting it up does not cause any obstruction.
One design feature of this headset that I grew fond of is the volume rocker being integrated on the outward-facing side of the right ear cup. It functions like a dial that you can rotate to adjust the volume and its larger form factor (compared to in-line volume rockers) enables finer controls which I found to be a really great aspect of the headset.
I also appreciated that the headphone jack is removable and is something I personally look for in headsets as this can help in prolonging the device's lifespan as you can easily replace the cable in case of damage. However, the part of the cable that connects to the device is a proprietary plug which means they aren't as easily (or cheaply) found as 3.5mm plugs, which I would prefer it to use. But rest assured that the other end that plugs to the audio source is a 3.5mm headphone jack. EPOS provides two cables in the package: a console cable and a PC cable with audio and microphone jacks.
Overall, even it's a pricey pair of headset, the EPOS GSP 602 does deliver on the comfort, build and audio quality which are essential features of a gaming headset.