Product Information:
Creative wants to power your gaming and work from home set up with not only audio peripherals but with video streaming ones as well. Its Live! Cam Sync 1080p V2 is the latest one in its growing catalogue, so let's see if it's worth adding to your streaming kit!
Creative has generally delivered strong impressions with its audio peripherals. Its BlasterX Katana has become my main audio peripheral for my PC while I use the SXFI Air for my on-the-go audio needs. Till now I have only looked at their audio products but they also have a small but growing line of webcams, with the latest being the Creative Live! Cam Sync 1080p V2.
While its name is a mouthful, it represents the second version of Creative's webcam and packs improved dual microphones and a new companion software. This new model comes at a reduced price of £24.99 (originally £54.99) at the time of writing and you'll find the following items in the box:
1 x Creative Live! Cam Sync 1080p V2
1 x SmartComms Leaflet
1 x Quick Start Guide
Specs of the device can be found below:
Weighing only 100g, the  Live! Cam Sync 1080p V2 is rather light yet packs a sturdy build. Its design doesn't have much to write home about, featuring a rather generic webcam look but it isn't bad per se; just not very striking or particularly original.
What might not be common is the "privacy lens cap" which you can easily use to cover/uncover the camera lens. This also doubles as a dust cover to prevent the lens from accumulating dust and impacting the image quality.
Being lightweight makes it easy to mount on your laptop without any worries that it might fall or tilt your screen. The integrated mounting clip also means you don't need any additional peripherals to start using it; but it does also come with a universal tripod plate should you prefer placing it on a tripod.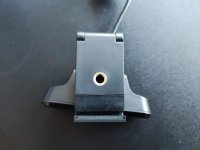 You can also easily adjust the angle of the webcam. It  allows for 360° horizontal rotation and 30° vertical tilt, enabling you to adjust it to a positioning of your liking.
Once mounted, you can plug the Live! Cam Sync 1080p V2 directly to your computer via a USB port and it will be ready to use. Given that it is UVC compliant, it requires no additional driver installation and will work on macOS and Windows devices. This hassle-free, plug-and-play approach is really beneficial, especially if you don't want to fiddle around with extra software and just need a camera other than your built-in laptop one.
As the name implies, the Creative Live! Cam Sync 1080p V2 is a full HD webcam, capable of delivering videos at 1080p / 30 FPS rate. This is the standard on the market for webcams worth their salt and this one will likely deliver a better quality than your integrated laptop's one (depending on your laptop's webcam quality). The Live! Cam Sync 1080p V2 also has better aperture than generic laptop webcams, making images look brighter and more appealing in videos. You can take a look at the differences below:
Shots taken by the Creative Live! Cam Sync 1080p V2
Shots taken by my laptop's built-in camera
However, the image quality is highly dependent on the lighting condition and in poorly lit rooms, the images are rather grainy. Irrespective of the lighting condition, I also found that images tend to be a bit blurry with this webcam. While the quality is not that bad, it hasn't blown me away. In comparison, the 1080p OBSBOT Tiny goes the extra mile to include A.I.-powered lighting enhancement without the need of any additional software and the results speak for themselves, given that images are crisp even in poorly lit environments.
The Live! Cam Sync 1080p V2 also has dual built-in microphones that help in picking up the user's voice. However, they are serviceable at best and if you want better audio quality, you'd be better off investing in a dedicated mic than relying on these.
You might have already noticed that the Live! Cam Sync 1080p V2's USB cable is non-detachable. This is personally a major downer as it not only makes it less portable but in case of damage to the cable, then it won't be easily replaceable.
Where this webcam shines though is with the free companion SmartComms Kit software. With it, you have access to more features that improves the overall experience with the device. There's the VoiceDetect feature which can detect your voice and automatically mute the webcam's microphone after you're done speaking, and unmutes immediately after you resume talking. It works well and helps overcome the awkward background noise during calls without the need to fiddle with a mute button. Its sensitivity and the amount of time for the microphone to be automatically muted after you have stopped speaking can be tuned to your liking in-app.
Another feature accessible via the SmartComms Kit software is the NoiseClean-out Feature. It filters out ambient noise and static so your voice comes out clearer to the receiving end. The settings of this feature can also be tuned in the app. 
The extra features that the SmartComms Kit software unlock are, I would say, the Live! Cam Sync 1080p V2's standout aspect and shows Creative's prowess as an audio company. However, the app is only available on Windows at the time of writing, so if you are on another OS, you will not be able to make the most out of this device. 
While the extra audio features are remarkable and help the device standout from the crowd, the image quality isn't the best out there. For £24.99, the Creative Live! Cam Sync 1080p V2 will do as an upgrade to your laptop's built-in camera. But as far as image quality goes, this webcam shows that Creative has room for improvements before it can tout its video streaming abilities as well as it can tout its stellar audio prowess.
Verdict
What We Liked ...
Plug-and-play camera
Good aperture
Integrated screen mount
Impressive audio features with companion SmartComms Kit
What We Didn't Like ...
Fixed USB cable
Lacklustre image quality
SmartComms Kit available only on Windows
Overall
Creative's Live! Cam Sync 1080p V2 can serve as a budget-friendly add-on to your streaming set up, but it really stands out with the extra audio features accessible via its companion Windows-only app.