60% keyboards are, of course, all about minimizing the space they take up. They've always been good at this, but Cooler Master's SK622 takes it to the next level by slipping everything into a smaller frame, and, with the help of Cherry MX's Low-Profile switches, changes to a chiclet-style layout for the keys, similar to what you see on a laptop keyboard. This means the keys are much lower to the body, as opposed to the very tall keys you see on most mechanical keyboards, with a hit of 0.8mm to the actuation force.
Given these changes, it seems clear the SK622's big goal is portability, and it hits that mark pretty well. With dimensions of 293 x 103 x 30.28 mm (change the height to 43.03mm when the feet are open), it's not exactly pocket-sized, but it's as close as any respectable keyboard's gonna get. The USB-C cable is detachable, which makes it a little easier to bring around, and it has Bluetooth connectivity which only helps increase portability (the SK622's little brother, the SK620, is the exact same keyboard but a bit cheaper and with no option for wireless connection, if you think you'll be fine dragging a cable around). The latency on a wireless connection is negligible, but 60% keyboards don't often suit gaming anyway due to their lack of sometimes vital keys. It's also compatible with both Windows and Mac OS, with keycaps that mark mark the keys for both OSes, which makes it a bit easier to bring with you wherever you need to go.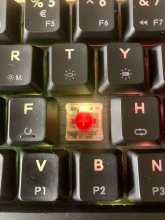 Of course, a lot of sacrifices have to be made to achieve that portability. The only question is how well the SK622 mitigates the damage caused by them. The biggest issue is the way the chiclets affect the overall typing experience, since most people serious enough about this stuff to buy a fancy mechanical keyboard are likely used to more luxurious keys. Even me, having spent the last ten years typing on chiclets and only getting a real mechanical keyboard last year, found it hard to go back. The reduced actuation force means it's a lot easier to mistype, and the smaller keys make it easier to just hit more than one at a time. If you're used to typing on a traditional keyboard, the farther travelling distance might disrupt your rhythm a little as well.
In and of itself, though, the typing experience is totally fine if you're not trying to downgrade from a higher-end keyboard. Cherry MX switches are top of the line, and their low-profile variants are no exception. The keyboard I received has red switches, but there are also blue switches available which require a stronger actuation force anyway, which helps manage those mistyping problems a bit right off the bat. (Brown switches are also available if that's more your speed.) They provide the signature click-clack of mechanical keyboards, and give good tactile feedback as you type, with the normal bumps you'd expect. Once I got used to the different form factor, the annoyances were few and far between.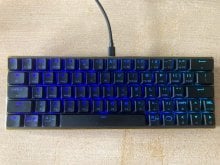 Unlike a lot of other Cooler Master hardware, you can't customize the SK622 with the MasterPlus software--instead, you need to use the Cooler Master Portal software, which downloads a separate little program for any device that isn't compatible with MasterPlus. It's slightly annoying that you can't consolidate all of your Cooler Master products under one program, but the Portal is still an effective tool that lets you do everything you'd want to. There's a decent number of options for RGB, and you can record macros. You can also save different profile options for specific situations or users, and switch between them easily. Best of all, the UI is super simple and intuitive, so none of this ever feels cumbersome. Since being tied down to software impedes the keyboard's portability, you can also customize it to an extent via on-board controls. Using the Cooler Master key in the bottom right, you can alter the RGB or record macros. It's limited and not super intuitive, but if you're moving around to a lot of different systems or want to quickly change things, it's a decent workaround.
The Cooler Master SK622 is an oddly niche product. Even more than other 60% keyboards, it sacrifices nearly everything for the sake of its small form factor. It does that well, and does an admirable job of mitigating the damage done by those sacrifices, but at the end of the day, there are better keyboards out there if you're willing to go for something just a little bit bigger.