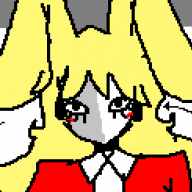 Newcomer
i feel like the person who designated the terms pitch and yaw in airborne travel Dec 19, 2019
Male, 22, from 50 ft under
Last Seen:

Jan 15, 2020
Loading...

Loading...

About

Gender:

Male

Birthday:

Oct 23, 1997 (Age: 22)

Location:

Occupation:

A common enemy type in touhou games 1-5

Country:

Oh hi

Systems (Extended list)

Primary - Optilex 755 Windows PC

Stored - 2 Dell laptops

Console - Xbox One

Console - Xbox 360

Console - Wii (Unmodded, Tried, Was too lazy)

Console - N64 (Not set up)

Handheld - NewN3dsXL (Black) (B9S, And other hax)

Handheld - Old3ds (Blue) [DEAD]

Ext PC Stuff

FDD - Chunganzhuo EXT Fdd (door broke, still works)

Smartwatch - (I use it as a microsd-usb, no sdhc on pc)

Broken USB stick - (In a format i've NEVER even heard of)

CD-R drive - (no bd-rom) - For Dvds and crap.

XB1 Controller - (i play pc98 games with it

)

Programs

NPII (Fmgen and debug)

Anex86

IDeaS

(note: add more)

Summary: I Do batch coding and Stupid stuff. Hello again. :3

Interact

Content:

3DS Friend Code:

4871-9764-2876

Signature

I ask too many questions :0

Cast:

"The Hammer Brothers"

- Dsi (Blue)

- New 3ds XL (Black) (SD card HAX residue cleaned

,functional and haxxed, With B9S, Luma, HBLL and a considerable amount of select few useful homebrews.)

Red pill, Blue pill.

- Broken DS lite (Basically just parts now)

- Broken 3ds classic (blue) (destroyed, screen detached and motherboard chipped, rip D; ) (nand (probs) still gud tho)

Big Cheddar:

- Dell Optilex PC 755 running Windows 7 (What's writing this) With...

+ "Chunganzho" USB floppy drive (with ten floppies)

+ VGA cable outputting to generic Plug And Play monitor (no hdmi :o)

+ Mouse with 4 (single button adjustable) pointer speeds

+ A decent keyboard

+ Windows 7 Professional (i think this one had the most stuff with it)

+ Built in CD-R drive

+ Some disk based magnetic data bois

- Thing i bring in school because my 3DS and DSI can "play games"

(even though they literally (AND I, NEVER IN THE NEVER-ENDING EXISTENCE OF THE MULTIVERSE ITSELF, KID YOU NOT,) have multiple GBA games, one GBC game, several more DS games than GBA games, a GBA SP, GBC, and SIX DS LITES!)

1 R4 sdhc dual core (r4dsi.com)

1 DSbox MicroSD to USB adapter (...Yay, chromebooks..?)

- Some paperclips and a screwdriver

(EXTENDED LIST OF MY TECH ON MY PROFILE!)

Loading...