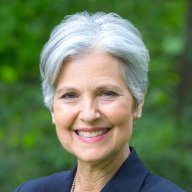 Loading...

Loading...

About

Gender:

Female

Birthday:

May 14, 1950 (Age: 68)

Home Page:

Location:

Occupation:

Green Party Presidential Nominee

Country:

I was the Green Party's 2012 candidate for President. I holds the current record for most votes ever received by a woman candidate for President of the United States in the general election. I am a mother, an organizer, physician, and pioneering environmental-health advocate. I have helped lead initiatives to fight environmental racism and injustice, to promote healthy communities, to strengthen local green economies and to revitalize democracy. I have helped win victories in campaign finance reform, racially-just redistricting, green jobs, and the cleanup of incinerators, coal plants, and toxic threats. I was a principal organizer for the Global Climate Convergence for People, Planet and Peace over Profit.

​

As a practicing physician, I became aware of the links between toxic exposures and illness emerging in the 1990s. I began to fight for a healthy environment as a human right, assisting non profits, community groups and Native Americans combating environmental injustice and racism in dangerous exposures like lead and mercury in air and water pollution, incinerators and land fills, toxic waste sites and more. I helped lead the fight to clean up the "Filthy Five" coal plants in Massachusetts, raising the bar nationally to a cleaner standard for coal plants. I helped close a toxic medical waste incinerator in Lawrence, MA, one of the poorest communities in New England. I played a key role in rewriting the Massachusetts fish advisories to better protect women and children, Native Americans and immigrants from mercury contamination. I also helped preserve the moratorium on new toxic trash incinerators in Massachusetts.

Having witnessed the power of lobbyists and campaign contributions to block health, environmental and worker protections, I became an advocate for campaign finance reform, and worked to help pass the Clean Election Law by voter referendum. This law was passed by a 2-1 margin, but was later repealed by the overwhelmingly Democratic Massachusetts Legislature on an unrecorded voice vote. This sabotage of campaign finance reform by the Democratic Party was a pivotal event in my political development, confirming my growing allegiance to the Green Party.

In 2002, I was recruited by Green-Rainbow Party activists to run for Governor of Massachusetts against Mitt Romney, beginning my first foray into electoral politics. Many observers credited me with being the best informed and most credible candidate in the race.

​

I have twice been elected to town meeting in Lexington, Massachusetts. I am the founder and past co-chair of a local recycling committee appointed by the Lexington Board of Selectmen.

In 2003, I co-founded the Massachusetts Coalition for Healthy Communities, a non-profit organization that fought for the health and well-being of Massachusetts communities, including health care, local green economies, environmental protection, labor rights, and grassroots democracy.

I represented the Green-Rainbow Party in two additional races – one for State Representative in 2004 where I finished second, ahead of the Republican. In 2006 I ran for Secretary of State receiving over 350,000 votes – representing one of the greatest vote total ever for a Green-Rainbow candidate.

In 2008, I helped lead the "Secure Green Future" ballot initiative to move subsidies from fossil fuels to renewable energy and to create green jobs. The measure won over 81 per cent of the vote in the 11 districts in which it was on the ballot.

​

I received several awards for health and environmental protection including: Clean Water Action's "Not in Anyone's Backyard" Award, the Children's Health Hero" Award, and the Toxic Action Center's Citizen Award. I have appeared as an environmental health expert on the

Today Show

,

20/20

,

Fox News

, and other programs. I also served on the board of directors for Physicians for Social Responsibility.

I am the co-author of two widely-praised reports,

In Harm's Way: Toxic Threats to Child Development

, published in 2000, and

Environmental Threats to Healthy Aging

, published in 2009. The first of these has been translated into four languages and is used worldwide as a community tool in the fight for health and the environment. The reports connect the dots between human health, social justice, a healthy environment and green economies.

I was born in Chicago and raised in Highland Park, Illinois. I graduated magna cum laude from Harvard College in 1973, and from Harvard Medical School in 1979. I live in Lexington with my husband, Richard Rohrer, also a physician. We have two grown sons in medical school and residency training.

Please visit

ajamubaraka.com

to learn more about my running mate, Ajamu Baraka, while we revamp our website.