I have spent a few weeks playing through the game at my leisure, finding spelling mistakes, and correcting them in a hex editor. I figured I'd share my work with everyone. So here it is,

The Legend of Zelda - Link's Awakening DX [Redux

+

]

.

DON'T USE THE DOWNLOAD BUTTON, IT'S AN OLD BUILD!


DOWNLOAD THE LATEST PATCH HERE:

MEGA

​

Use

Lunar IPS

to patch the base ROM:

Legend of Zelda, The - Link's Awakening DX (USA, Europe) (SGB Enhanced) (GB Compatible).gbc





(DO NOT ASK WHERE TO GET ROMS!)

I made myself a physical copy as well: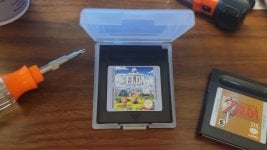 Change log

1.0: Initial release.
- Fixed spelling errors throughout the entirety of the game.

1.1: Bug fix.
- Fixed 5 more spelling errors.
- Fixed header checksum.