I've been wanting to make this blog for a very long time now but never had the courage to do so. To those who know me personally, follow my stream, or are part of my Discord server, you might have an idea of the topic I am about to cover. I have been talking about making this blog post for several months now. I recently talked about this topic on my stream and in great detail on my discord server, so what I am about to talk about is pretty well known but I still feel like it would be nice to be open about this topic. So I guess this blog is going to answer the question of, "Who am I?"
Who am I? This shouldn't be such a complicated question, you should be able to answer it. Going into detail about who you are might require some additional thinking but you should be able to answer the basic question of who you are. For me, this question has been one of the greatest struggles to answer. Who am I? Am I Crystal? Am I Lilith? Am I Miko (The Catboy?) Who am I? That question never seems to have an answer for me or should I say, us. That question has never had an answer for us. This isn't to say that there is no answer to the question of "who am I?" as the answer is a bit more complicated than simply saying "I am Lilith," as we aren't just Lilith. What do you mean by, "us" and "we?" I mean, we aren't just Lilith.
Back in 2018, I remember sitting in a therapist's office and crying my eyes out, struggling to understand who I was. Deep down it felt like the answer should have been simple but it wasn't. I had introduced myself to my therapist, but it wasn't the first time I had done that. I kept introducing myself to people, people who already knew me. I kept changing my name each time though, unsure if this was the first time we've met or the 100th time. Who was I? Why am I like this? Why can't we simply be one person? The struggle of being fractured and trying so hard to hide the truth from everyone. Why did I just introduce myself as Lilith? The struggle of pretending to know who I was. Who the fuck is Sarah? Why are there so many posts I don't remember writing? Why did I get suspended/banned from that site? I don't want to accept the truth because it scares me so much. I am not just one person in this head. We aren't just one person. I left that therapist appointment unsure of how I was supposed to feel. I wasn't Crystal and she now knows this.
"You're just a DID system claiming to be a shapeshifting demon, aren't you?" -random discord user 2019. This question broke the dam and flooded the town under it. Our cover was blown and there was no going back, another person figured it out. We spent years trying so hard to hide the obvious fact that we have DID. Years trying so hard, yet so clearly failing. Maybe it wasn't obvious with the constant name changes, the "mood swings," the character shifts, and so many strange contradictions. No one noticed that we have DID, but yet this random person realized it so quickly. How many others noticed and never said? I don't think there's an answer for that question but did make us realize that maybe it wasn't as well kept a secret as we were hoping. It made us realize that this secret wasn't going to be kept for much longer.
2020, We've started telling people and joining DID-friendly discord servers. My wife knows we have DID, our friends start finding out, we are a DID system. It could no longer be hidden but yet it kind of was despite being so well-known to so many other people. It still became so much harder as the year went on. Miko started making comments about himself. Scarlet literally made a comment on another user's profile, she literally outed us. There were so many moments when the secret split, yet we continued to believe it was still a well-kept secret. Someone already figured us out once before, the secret was obvious.
August of 2021, we finally said it on stream as we realized users joining our discord server would be instantly made aware. It was time then to come clean and it's time now to come clean on the Temp. I have DID or more correctly, we have DID. This term stands for "dissociative identity disorder" or "multiple personality disorder." My name is Marshall Lee or at least it is now, it used to be something different before deciding it was Marshall Lee. This is to say that I had a previous name before, on the Temp I was once "Femcario." I didn't care for that name because I am not a girl and not a Lucario either. So I am Marshall Lee now, and I am named after Marshall Lee from Adventure Time. I was given my name by my friend because the Picrew avatar I made for myself looked kind of like Marceline from Adventure Time, so I went with Marshall Lee.
What does mean about today? Why am I finally talking about this? To be honest, I am tired of hiding this fact about me. We've spent literally the past decade shifting from identity to identity and it started becoming stressful trying to pretend that was just some random nonsense. I am pretty sure it was obvious to many who knew me. I've yet to tell anyone who hasn't already figured it out or been told in the past. I just decided today was the day we said something on The Temp. After 11 years of hiding this secret, the cat is finally out of the bag and I feel so much better having finally said all of this.
Today's Lilith picture comes from
@FatalAryia
and was made for our server and technical difficulty screen for our stream. It was inspired by the meme that will be included.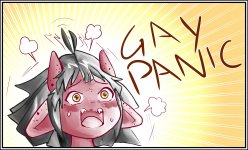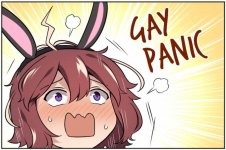 And an extra special treat, Lilith and my (Marshall Lee's) info