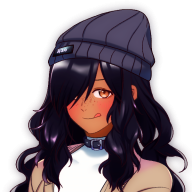 coon-strudel
Member
After playing both, I prefer Smash 3DS over Wii U >.> Jun 29, 2017 at 2:53 AM
That one weird Furry Artist, 19, from My own little world
coon-strudel was last seen:

Jun 29, 2017 at 3:23 AM
Loading...

Loading...

About

Birthday:

Sep 12, 1997 (Age: 19)

Location:

Occupation:

Nerd, Artist, Gamer, Betatester , Cookie Thief

Country:

This site will be the end of me. But I love it, and it's users.
I know I ask some dumb question an have silly ideas. But I dunno how stuff works. So please don't get all steamy with me if I say something you don't like. Not that anyone has, recently.
I'm here to learn. I have no intentions on making anyone upset, or getting upset myself.

Can someone buy me cookies? <3

Interact

Signature

DC - Dreamshell

PS2S - FMCB

3DSXL - Luma

3DS - HBL

Wii - CFW 4.3U

Loading...