GBAtemp.net -> The Independent Video Game Community: 3DS, Gateway 3DS, NDS and R4, Wii, PSP, PS4, Xbox One and all the gaming universe
Introducing the GBAtemp Download Centre
Your one-stop shop for all your flash kit needs
If you thought "v3" was all we had in store for 2007, then think again. The GBAtemp staff are proud to unveil the latest addition to GBAtemp -
the GBAtemp Download Centre!
The new download section will cater to all your flash kit related needs. You'll no longer have to scour slow Asian servers to grab the most recent or past flash kit firmware and software, tools and files. You'll now find all you want right here at GBAtemp.
Here's a brief look at what the Download Centre offers:-
Clients, Loaders & Firmware for every available flash kit
Cheat DAT files for various kits,
All the DLDI files you'll need,
Homebrew database,
Save Game files,
Skins for your flash kits,
Useful Tools & Utilities,
Trainers & ROM Hacks for both GBA, NDS and other systems,
And more!
And what's best of all?
The database is maintained by YOU!
Maintaining GBAtemp's community spirit, the Download Centre is updatable by all members. What does this mean exactly?
A new home for your homebrew, skins and creations...

Free file hosting,
Download page dedicated to your creation,
Write your own description in your own maintainable page,
Ability to upload screenshots,
Read comments on your file,
Check statistics...

Search the entire Download Centre,
Rate files,
Add and read comments,
Create your own favourites list,
Receive notifications on file updates,
... and more!
We hope you appreciate the work we've put in to building this, but more importantly we hope that you'll join us in filling the categories with more downloads! We want to see skins, homebrew, tools, cheats, trainers, hacks and more.
If you're submitting a file to the Clients, Loaders & Firmware or Tools & Utilities categories, entries here will be subject to staff approval, so don't be surprised if they don't appear straight away. Thanks in advance for co-operating.
If there's some more categories you'd like to see, then just let us know!
To get started using the download system, if you're using the new v3 skin; hit the link in the banner, otherwise hit the link in the navigation box on the portal or follow the link below.

GBAtemp Download Centre
If you have any problems with the system let us know, but remember; the download system will be moderated and anything that contradicts the forum rules will be removed and users involved will be punished appropriately.
iDeaS v1.0.1.5 released
DS emulator by Lino
Lino has released version 1.0.1.5 of iDeaS. Here's what's new:

Download iDeaS v1.0.1.5
Home page
BeUp 0.3e fixed released
MSN messenger for DS
HtheB has released 0.3e fixed of BeUp.
Download at Source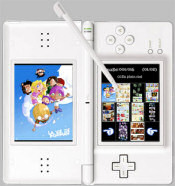 Comic Book DS 2.2
by Gnese
Comic Book DS developer Gnese has today released version 2.2. Here's the lowdown on what's new!
Source & Download
Thanks to FAST6191 for the news tip!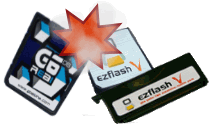 G6DS Real new information
Est. release date, DLDI, 3-in-1...
We've just received some new information on the G6DS Real that should satisfy some people still waiting to get their hands on one.
First off; the release date and price. The G6DS Real is estimated to start shipping to retailers within the next 2 weeks, and will retail for a price, that I quote is "much lower" than the DS-Xtreme 4Gbit & 16Gbit respectively. We'll have to wait another 1 and a half weeks for a proper price.
The team are currently working on a cheat code library to make using the cheat engine easier, and are also finishing work on a DLDI patch.
Interestingly, the team plan to release a 3-in-1 device to compete with the EZ-V's very same. The G6DS Real 3-in-1 (the M3 Real will be getting it also) will incorporate a RAM pak, rumble and GBA support that will be supported by a future OS update.
We should be getting our hands on this new 3-in-1 soon, so stay tuned to GBAtemp for more information very soon!
Unscrambler RC for Wii images
Right-click unscrambler
GBAtemp member GeekShadow (aka. MEstk) has released a new tool that allows users to unscramble a Wii ISO (assuming the extension is .wii) by simply right-clicking on the file and choosing the unscramble option.

Download
DS-Xtreme firmware 1.1.2 released
Out now...
Team DS-X have released version 1.1.2 of their DS-Xtreme firwmare. Nothing exciting in this release, just a yawn-fest of bug fixes and support for the new 2GB model, which has, today; begun shipping to retailers.
Source & Download
Thanks to thegame07 for the news!
GBAtemp Art/Graphics Competitions
Join in!
This is just a friendly reminder to say that the semi-official
GBAtemp Art/Graphics Competitions
, organized by Kyoji, are back up and running. These competitions are suitable for everyone, so participation is encouraged regardless of your skill level or your particular area of expertise - you will be catered for. Each competition has a subject and some guidelines, after that it's up to your creative mind to come up with a piece of art. You usually have a few weeks to get your entries in, and afterwards a vote is held to determine the winner. A reminder that these competitions are for fun only - there are no prizes other than the gratification in itself of winning or participating.
So what are you waiting for? Click below to take a look at the latest competition thread.
Art Competition Issue 3
Last competition's winning entry (by tshu)