GBAtemp.net -> The Independent Video Game Community: 3DS, Gateway 3DS, NDS and R4, Wii, PSP, PS4, Xbox One and all the gaming universe
(Click Here For A Full Breakdown Of The Stream) - Nintendo Direct - GBAtemp Live Coverage (2PM GMT Start Time)
Watch Live #1
Watch Live #2
Watch Live #3
Stop: Warhammer time.
Creative Assembly is the development team behind the popular Total War series, a historically-based RTS franchise totally about war. The games have enjoyed quite a bit of attention, both positive and, in the recent case of Total War: Rome II and its vast array of glitches... not so positive.
Well, it looks like Total War will be shedding its historical theme as its set to collide with the Warhammer franchise.
Total War Center
(Post includes the relevant excerpt and shots of the book as proof)
So yeah. For all you Dawn of War fans waiting on a third game, hopefully this will help tide you over until the eventual heat death of the universe.
It has been one week since the
Tempmas Week 2
Christmas Carol competition ended and we the staff are having a hard time designating a unique winner! There are just so many amazing entries that we decided to let the community go ahead and vote.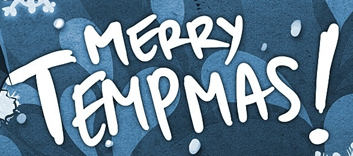 Since there were a lot of entries the public poll will only contain the 10 entries that received the most votes from staff. Some of them sound like they are made by industry professionals, we had to run background checks on the authors to ensure the songs were really from them (and turns out all of them are 100% legit and authentic, recorded just for us!). The other 13 songs are nice too and you can tell a lot of effort was put into the competition; they can be found in the list at the bottom of the post - but you will not be able to vote for them.
TOP 10 ENTRIES SELECTED BY STAFF (ALPHABETICAL ORDER)
HOW DO I VOTE?
To make sure there will be no fraud/cheating, voting is only open to confirmed members; the thread has been created in the trading section (which only confirmed members can access). You may vote for several entries - we know it can be hard to choose. In the end, the entry that will have received the most votes will be the winner.
Click here to access the poll thread and proceed to voting
.
WHAT DO THEY WIN?
The author of entry that gets the most votes will receive a brand new
New Nintendo 3DS
+ the game of their choice. And to reward other competitors for their amazing entries, we are throwing in extra prizes: the 4 runner-ups will each receive a $50 cash reward (via Paypal)! So make sure you vote carefully.
LISTEN TO THE OTHER ENTRIES
The poll only lists the top 10 entries as selected by staff, but let's not forget the other 13 entries that didn't make it! They are listed below, click on the
listen
link next to each nickname to listen and see for yourself, tell us whether you think the staff made a mistake in their selection...
Retro gamers rejoice! The Internet Archive, mostly known for their "Internet Time Capsule" called the Way Back Machine, has added 2298 MS-DOS games to their Software Library and allows users to play them via in-browser emulation for free!
If you have the retro gaming bug and you get the itch to play Prince of Persia or The Oregon Trail but just don't feel like setting up DOS-Box and digging through your collection of old floppy disks, now you can re-visit those classics without any hassle in just a few clicks. If you're too young to remember those great games, The Internet Archive now gives you a perfect opportunity to familiarize yourself with the history of PC gaming completely free of charge.
In addition to MS-DOS games, The Internet Archive also stores software for Apple, Atari, IBM PC and even the ZX Spectrum, so there's a lot to see. Should you wish to check out their software collection, be sure to follow the link below.
The Internet Archive: MS-DOS Games Collection
The Internet Archive: Software Library
In order to win this adapter, you're going to have to do something fun for me. It's not going to be as easy as just submitting your name in a post - there's going to be a little bit of work involved! What you have to do?
Your job is relatively simple - give me a good laugh!! You can submit the following entry types:

Funny stories
Pictures of you doing something
A video

The following entries will not be acceptable:

Memes - there's no creativity in those.
One word posts, or random emotes.
Pictures, words, or videos that blatantly insult me.

This contest will end on Monday, January 19th, at 10 PM (22:00) Pacific Time.
The contest will be judged by the entry that makes me simply laugh the most. I'll keep notes when I go through each entry! Be creative, and have some fun! I won't be providing hints as to what I like or dislike. The winner will be PM'd and announced here after the contest is over, and so long as you have an address, I will ship it out to you. There is no restriction as to where you need to be located! Have fun, and if you have any questions, let me know! Best of luck! I look forward to seeing the entries!
UPDATE 1:
And the winner, after perusing the entries several times, is
Sheimi
! Congratulations, and I'll be getting in touch with you shortly!