GBAtemp.net -> The Independent Video Game Community: 3DS, Gateway 3DS, NDS and R4, Wii, PSP, PS4, Xbox One and all the gaming universe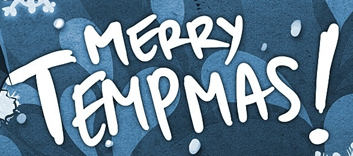 Welcome to the final week of
Tempmas 2014
!
This post is a couple of days late (too much Eggnog!) but we hope you still have some Tempmas spirit left in you!
What we're asking for this week is for you to create a Tempmas themed Christmas Carol. The best Carol will win a brand new
New 3DS
and a 3DS game of your choice!
There will also be one runner up prize of a 3DS game of your choice.
Check out the following rules before submitting your entry:
If you are looking for some kind of inspiration, check out this
Legendary Jingle
from GBAtemp's very own tshu.
Good luck and keep checking in to see the winners from Week #1 announced soon!
The annual hacker conference known as Chaos Communication Congress (C3) is set to kick off tomorrow (27th of December 2014) with
31C3
and run for four days. In previous years it has seen talks from many console hackers, those doing work in related fields and things that are just generally of interest to many 'tempers. Also if you have ever wanted to learn how to hack then many a talk on concepts you might wish to know about happens at conferences like C3.
Give or take potential lightning talks there is nothing booked on modern consoles,
however a talk on preserving older arcade hardware and bypassing their infamous protections is set to happen
.
The schedule usually goes by the name "Fahrplan" and you can view it
http://events.ccc.de/congress/2014/Fahrplan/
Be aware that the times listed are
Hamburg, Germany
times (Central European time or UTC+1).
This year, in addition to the usual Fahrplan, there are
different versions
you may prefer to see instead.
Videos of most of the talks are
streamed live and uploaded quickly to download
, and also to youtube. Various hacker/makerspaces and the like will also have
streams and may be near you
.
You can see videos of previous years, and some from other conferences,
here
.
Are there any talks you are planning to watch?
The big day is almost upon so I would like to wish everyone a Merry Christmas from all of us here at GBAtemp!
Have a good one and we'll see you on the other side!

The One Piece: Pirate Warriors series coming to North America isn't really suprising. What is surprising is the fact that the game is coming to PSVita AND Steam in North America. Previously, Namco skipped the PSVita version of One Piece: Pirate Warriors 2.
Source
Alright, this is a shock. Namco Bandai of America is actually localizing a Shounen Jump fighting game. Yeah, you heard right. Very shocking indeed. Also new, it's coming to PS4 which is new since the original Japanese release was PS3 and PSVita exclusive.
They shouldn't have trouble localizing that Digimon Vita game now!
..Right?
Source
It was commonly known that November was a month of some hectic game launches, and nearly every game released suffered some kind of launch issue. This included Halo the Master Chief Collection, and its atrocious matchmaking issues that are still being ironed out today.
Fans have been outcrying for some kind of compensation for their suffering, so 343 decided, "Hey... Lets throw another game their way why don't we?"
To be eligible for most of the free content, you must be an "online user" who played Halo: The Master Chief Collection between launch date (November 11, 2014) and yesterday, December 19. The exception is for the newly remastered Halo 2 map, which will be made available to everyone.
Source
It's a well known fact I am one of the biggest Halo freaks on this forum, and i've done my fair share of complaining about the Halo MCC launch (I don't think there isnt a single curse I havent uttered in the same sentence as 343 industries.)
This news came as quite a pleasant surprise, as I was a very big fan of ODST, however, mostly for its FireFight mode, which will not be included on launch. That being said, it is wonderful to see 343 take responsibility for their launch, and even offer compensation as large as this for it. I am humbled and happy to be a Halo fan still
Earlier this year, the Android got Portal and Half Life 2 released as "exclusives" for Nvidia's Shield Portable and Shield Tablet. With those releases, many were speculating other Source games were coming to Android, and now we've seen a new Source game released, Half Life 2 Episode One, which is available exclusively on the Shield Tablet only.
The game is cited as having little graphical differences between the PC version at the best settings, with the same physics and face-paced gameplay as the original. Below you'll find a comparison image, where you can see the subtle difference graphics-wise between the two.
PC and Shield Tablet Comparison Image
I'll be trying the game myself later today, Portal and Half Life 2 ran great and my only complaint with them was load times being a bit long. If Episode One has shorter load times, then I definitely can't wait to play through it on my Tablet and any other future Source games.
Source
Play Store Link