GBAtemp.net -> The Independent Video Game Community: 3DS, Gateway 3DS, NDS and R4, Wii, PSP, PS4, Xbox One and all the gaming universe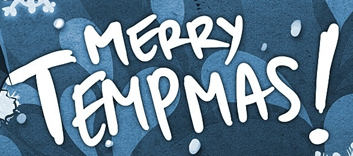 Welcome to this year's
Tempmas
!
This year will be a shorter competition but the prizes will be as awesome as always!
What we're asking for this week is for you to design a Christmas/Tempmas themed card (by card, we mean a simple JPG/PNG non-animated image, physical cards are also accepted!)
The 10 best cards will all receive a brand new (no game limit)
Sky3DS Flash card
!
Check out the following rules before submitting your entry:
And by the
SKY3DS
official team
Earlier this year, the Android got Portal and Half Life 2 released as "exclusives" for Nvidia's Shield Portable and Shield Tablet. With those releases, many were speculating other Source games were coming to Android, and now we've seen a new Source game released, Half Life 2 Episode One, which is available exclusively on the Shield Tablet only.
The game is cited as having little graphical differences between the PC version at the best settings, with the same physics and face-paced gameplay as the original. Below you'll find a comparison image, where you can see the subtle difference graphics-wise between the two.
PC and Shield Tablet Comparison Image
I'll be trying the game myself later today, Portal and Half Life 2 ran great and my only complaint with them was load times being a bit long. If Episode One has shorter load times, then I definitely can't wait to play through it on my Tablet and any other future Source games.
Source
Play Store Link
Now that 2014 is almost at an end, I thought I would share what are my Top 10 games from this year.
This isn't an official list and doesn't represent GBAtemp's GotY or any other of the staff's feelings. It also doesn't cover all platforms as I don't play all platforms, it is simply what I found to be the best of the many games I have played in 2014.
Without further ado, here is my Top 10 for 2014!
GBAtemp Review
Continue reading
...

I have stumbled upon
this article
by Marc Rogers which I must say was quite convincing. Rogers (like many others including myself) is having a hard time believing that North Korea is really behind the recent attacks against Sony. Isn't it just too easy to blame North Korea for something like that? The hints left behind by the hackers are very obvious and could have been placed there on purpose.
Rogers lists ten different points to support his statement which I'm going to summarize here:
The broken english doesn't look like it's from a North Korean native (it looks like it's from a native english speaker trying to pose as Asian). Having lived in China for the past 5 and a half years I must say I concur.
The malware has been built on a PC with Korean locale & language, while traditional Korean is actually banned and forbidden in North Korea. It's extremely easy to change a computer's language and locale before building a program.
The malware contains hardcoded paths that probably only a (former) Sony employee would be aware of
The hackers could have done a lot more damage or at least very different damage, Rogers speculate that whoever is doing this just wants revenge over Sony
The hackers didn't originally mention the movie (The Interview), they only did so after mass media speculated that the attack came from North Korea. How convenient is that?
The hackers appear to have good knowledge of social media, not something you would expect from North Korean hackers - there have been studies about their techniques before
North Korea is an easy way out for everyone (Sony, third party "security experts" working for Sony, etc.) because quite frankly Sony's door were wide open, it's easier for them to just pretend they got hacked by super-sophisticated government agents
Blaming North Korea suits political agendas
Sony's security was so bad that they had it coming, it didn't really take overly competent government-hired hackers
Rogers suggests the hackers are being led by a former Sony employee seeking revenge, and links to several articles backing up his statement
If you want to get to the bottom of this and get some facts, make sure to read the following articles:
- The source of this article: a
blog post from Marc Rogers
(security analyist)
-
Additional elements
collected by another blogger Grugq
- A complete
breakdown of the attack
and in-depth analysis by security company Risk Based Security

Yesterday the Gateway 3DS team posted an
update on their homepage
. They are stating that all 3DS firmwares up to 9.2 (included) will be supported, and that the update will be published soon.
Source:
click here
Thanks Breith for the info
In a very bizarre announcement to come from Mojang and Telltale, it would appear that the story based gaming studio Telltale, known for their award winning titles The Walking Dead and The Wolf Among Us, are now taking on one the strangest franchises to tell a story in... Minecraft.
SOURCE
I do not really have words or a sense of what in the world to say to this announcement. Don't get me wrong, I am still a big Minecraft fan, but seeing it get a story mode is... off-putting to say the least. I have full faith that Telltale could create a very interesting tale for this game, as my trust in them skyrocketed after recently playing their Game of Thrones first episode earlier this month.
I look forward to seeing where this goes, but what is everyone else's take on this
Hey there, Temps and Temptresses! I've spent the last couple of days crawling through a certain labyrinth you might be interested in! Follow the link below and check out the Official GBAtemp Review of the latest in the Persona series, Persona Q: Shadow of the Labirynth for the Nintendo 3DS!
The Review
Official Site
This falls out of the realm of normal video game discussion, sure, but Sony is involved, and I think this is big enough to warrant discussion here.
To put it simply, North Korea has been railing against Sony's upcoming film "The Interview," which stars Seth Rogen and James Franco as two media types sent into the despotic regime to assassinate Kim Jong-Un (with wacky hijinks presumably ensuing). As retaliation, North Korea paid for a hack of Sony Pictures' database, leaking sensitive information such as private emails, employee's personal information, etc. Thing have only escalated from there when the hackers threatened to bomb theaters airing the film.
Deadline
There's no telling exactly what the studio will do now. According to Wikipedia, the film cost $44 million (not including marketing, of course), and features performers ranging from James Franco and Seth Rogen to Eminem and Kanye West. It'd be almost unthinkable to imagine the company eating the costs and shelving it for good, but is VoD a viable option if theaters have refused to touch it?
We're already seeing aftershocks in the rest of the film industry. After the news,
Fox quickly cancelled an upcoming project from Gore Verbinski and Steve Carrell set in North Korea
. One has to wonder if this will spread to other mediums, from television to video games. There are plenty of games featuring the country in some fashion or another, like EA's upcoming Homeland 2, where North Korea is the enemy.
I don't know what to say here, really.
Maybe that's because South Park already covered it years ago.